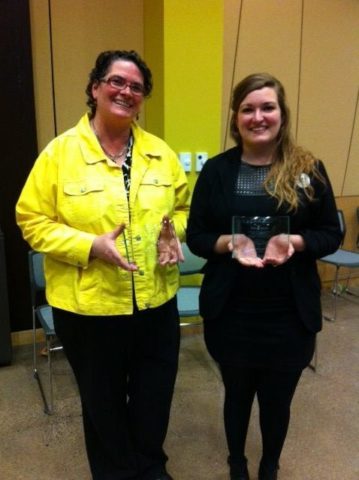 Every April, during Sexual Assault Awareness Month, the Community Helping Hand Award is presented by CASDA and the Douglas County Coordinated Community Response Team (CCR) to an individual who exemplifies a commitment to assisting victims of domestic and sexual violence in our community.
On April 25th, two individuals received this honor for their dedicated efforts during the past year.
Nominated by CASDA, the first award recipient was UWS Legal Studies Professor Dr. Maria Stalzer Wyant Cuzzo. Dr. Cuzzo is a longtime partner of CASDA and a passionate advocate for a community effort to end violence. Over the last couple of years, her active dedication to supporting this effort reached new heights.
In 2013, Dr. Cuzzo began picking CASDA as her first-year students' regular partner for the required Academic Service Learning component of their class. For their fledgling project, her students learned about intimate partner violence and then created displays to highlight Domestic Violence Awareness Month throughout our community. At the end of the semester, students had a chance to reflect about their project's impact and to debrief with CASDA staff. While this mutually beneficial partnership was a great start, Dr. Cuzzo's ambitions quickly grew.
In 2014, Dr. Cuzzo began an extended dialogue with CASDA about a possible summit bringing together victim advocates from throughout our region. In May 2015, thanks to her expert facilitation and partnership, as well as more support from her students, CASDA designed and executed an event called "Making Connections: Strengthening Advocacy Bonds in the North." Nearly 40 advocates gathered at UWS for a day of inspiring talks, discussion, and the chance – as well as the challenge – to re-commit to social change.
Next, in October 2015, Dr. Cuzzo's students provided education at a Domestic Violence Awareness Month public film event. Judging from her students' perceptive feedback, this project helped open their eyes to a multitude of legal and human complexities surrounding domestic violence.
Now, in 2016, Dr. Cuzzo is a member of CASDA's Social Change Committee, where her knowledge, perspective and facilitation skills help transform promising ideas into positive action. On behalf of this year's "Speak Out Superior" event, she worked closely with CASDA's Sexual Assault Program, her UWS colleagues and the entire CCR team to help develop a constructive, educational, community-wide dialogue about preventing and responding to campus sexual violence. Again, she involved her students so that they could gain not only a deeper knowledge about issues and resources relating to sexual assault, but also basic tools to help them become peer-advocates for fellow students who might one day need support.
Dr. Cuzzo has consistently taken concrete steps to make our community more aware of domestic and sexual violence, to challenge commonly held assumptions about these issues, and to help develop more and better advocates in our midst. She uses her determination, voice, skills and collaborative relationships to make a difference in the lives of victims and survivors, as well as in our community as a whole.
We are deeply grateful for Dr. Maria Cuzzo's ongoing dedication to creating positive social change!
The second award winner, nominated by the Douglas County District Attorney's Office and the Superior Police Department, is CASDA's former Legal Advocate, Elsa Swenson, who served in that role for nearly two and a half years, from the Fall of 2013 through this past January. Now she continues her advocacy at CornerHouse in Minneapolis, where she supports families and children hurt by child sexual abuse.
According to the District Attorney team, Elsa followed a good leader's example – her predecessor Laura Gapske.  She followed a simple plan, on the face of it:  a) invest time getting to know the key court system players; b) meet them in person; c) listen carefully to the terminology & ask questions; and d) attend court.  This common-sense investment of time and energy allowed Elsa to achieve an excellent, "real world" understanding of the (sometimes!) fast-moving and confusing court process.
Elsa learned in a hurry that an ongoing partnership with the DA's office, especially the court's Victim-Witness staff, was a great benefit to her clients.  She became adept at helping clients get to a place where they had a voice in their case – they understood the situation, could make informed decisions, and could provide valuable input to the assigned prosecutor and / or Victim –Witness specialist.  Elsa was efficient and effective in serving her clients with dignity and respect.
Elsa was also a key asset to and leader in the Douglas County Domestic Violence Coordinated Community Response Team.  She was instrumental in obtaining and implementing a grant to work with Domestic Violence best-practices system-change agent Scott Miller from Duluth's Domestic Abuse Intervention Project.  The result will be an up-to-date Domestic Abuse policy for local law enforcement, the District Attorney's office, and the Department of Corrections (probation agents, most specifically).  This updated policy will pay dividends to the system for the next generation and beyond.
We thank and congratulate Elsa for her ability to help her clients achieve empowerment and justice!