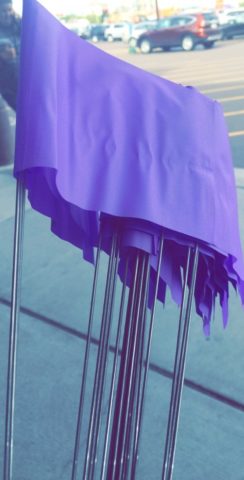 On Monday, October 2nd at 10:00 am in the Douglas County Government Center Atrium, Domestic Violence Awareness Month kicks off with both a mayoral proclamation and a series of brief remarks by local professionals, such as Superior Police Chief Nicholas Alexander, whose jobs give them unique, first-hand insight into how this serious issue impacts our entire community.
Following the proclamation, we will be placing purple flags in the front lawn of the Courthouse. The public is encouraged to come participate in these activities! Flags will be available at the proclamation or at CASDA (while supplies last) to display on your own lawn or wherever you want to make your support more visible. That evening, leave your porch light on in recognition of victims and survivors.
CASDA and the Douglas County Coordinated Community Response Team for Domestic Violence (DV-CCR) could not do their work without the feedback and partnership of everyone in our area who has either experienced or committed to learning more about the multiple consequences of domestic violence. Please join us, to help educate, listen and learn, and to help build a safer, more just community.