The Center Against Sexual & Domestic Abuse (CASDA) is pleased to share plans for both Child Abuse Prevention Month (CAPM) and Sexual Assault Awareness Month (SAAM), held annually in April. These two serious issues often overlap, and they impact our entire community.
1. CASDA promotes the value of play during this year's CHILD ABUSE PREVENTION MONTH
CAPM 2021 kicks off Thursday, April 1st, with a virtual proclamation declaring April 1st "Celebrate Children Day" in Superior and Douglas County.  In their joint proclamation, Mayor Jim Paine and County Board Chair Mark Liebaert will also highlight local challenges regarding child abuse and neglect, along with the community's obligation to take an active role in child abuse prevention. The virtual proclamation will be uploaded to CASDA's Facebook page and YouTube channel. 
Wisconsin defines child abuse and neglect, in part, as "intentional physical injury inflicted on a child; sexual contact with or exploitation of a child; emotional damage for which parents or guardians neglected or refused to get treatment; trafficking of a child; manufacturing (making) methamphetamine under any circumstances where the child may see, smell or hear the drug being made; or regular use of alcohol or drugs by a pregnant woman or other serious physical harm or the risk of serious physical harm to the unborn child." (https://www.womenslaw.org/)
In 2020, the Douglas County Department of Health and Human Services received 1,068 reports of suspected child abuse and neglect; conducted 326 initial assessments; identified 546 child victims; and made 204 offers of services to families. Also in 2020, CASDA received 77 calls regarding child abuse. CASDA works with children who are exposed to domestic violence within their household, as well. During 2020, our Children's Program provided 319 hours of direct services to 37 children and 57 non-offending parents or guardians. CASDA also provided education to 840 students/youth at schools and other youth-serving organizations. 
CASDA has chosen a theme of "Play Like a Child" for April 2021 to emphasize the positive impact of healthy play on both children and adults, and to promote activities that children and adults can enjoy together. According to the National Association for the Education of Young Children (NAEYC), "play provides rich learning opportunities and leads to children's success and self-esteem." With the additional stress experienced by families during the pandemic, we hope to encourage and provide opportunities for stress release and plain fun. This idea overlaps with the promise of the pinwheel, introduced in 2008 by Prevent Child Abuse America as the national symbol for child abuse prevention because its whimsical nature is a reminder of how we all envision childhood should be. As we have done in years past, CASDA will distribute pinwheels for interested businesses in our service area to display, along with information cards highlighting local resources that support children and families.
Community members who would like to participate in Child Abuse Prevention Month activities can do in any of the following ways: 
If community members would like to direct donations to CASDA during April in recognition of Child Abuse Prevention Month, they will be used toward:
Prevention education and community awareness events

Transportation for children to attend positive family activities throughout the year

Children's holiday party & gifts, and

Educational resources for school-aged children
Donations can be made HERE. Donors should include a note under "add special instructions to seller" specifying that they would like their contribution to benefit children!
2. SEXUAL ASSAULT AWARENESS MONTH theme highlights safety for online spaces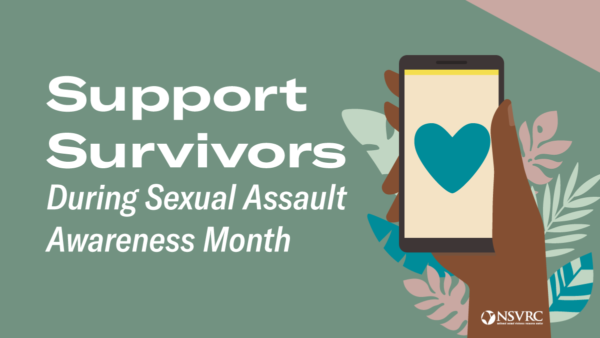 CASDA's staff and community partners invite members of the public to recognize this year's Sexual Assault Awareness Month (SAAM) by participating in one or more virtual events scheduled during April. All event links can be found HERE.
SAAM events begin with two opportunities Thursday, April 1st, both taking place via Zoom:
a

"SAAM Talkback"

from 12 to 1 p.m. Hosted by UW-Superior, this event is a facilitated conversation around sexual assault awareness featuring guest speaker Fatima Jayoma, Rural Projects Coordinator for the Minnesota Coalition Against Sexual Assault (MNCASA).

a

Joint Proclamation

at 3 p.m. by Superior Mayor Jim Paine and Douglas County Board Chair Mark Liebaert. CASDA's Sexual Assault Program Coordinator, Nicole Thole, will also speak about this year's event theme, urging community members to commit to creating safe spaces, as well as to believing and supporting survivors.
April SAAM events also include: 
Tuesday, April 6th, 5 p.m. to 6 p.m.

– A Zoom Presentation and Q&A on

Sexual Violence Issues in Criminal Law

, hosted by Douglas County Assistant District Attorney Angela Wilson

Wednesdays, April 7th, 14th, 21th, and 28th from

12 to 1 p.m.

via Zoom –

Canary Podcast Review sessions.

The podcast is a 7-part series published by the Washington Post chronicling a sexual assault case from initial report to mishandling of the perpetrator's probation. The story goes further after a woman reads about the case and makes the connection that the judge was her assailant. Discussion will be facilitated by members of Douglas County's Sexual Assault Coordinated Community Response (SA-CCR) Team. Attendees would benefit by listening to the podcast first, but are welcome regardless. Transcripts of the podcast are available for the deaf and hard of hearing.

Thursday, April 15th

– Deadline for submissions to the virtual

Clothesline Project

, organized by UW-Superior Academic Learning Service students to honor and raise the voices of survivors

Thursday, April 22nd, from 4:30 to 5:30 p.m.

via Zoom –

Marginalized Bodies, Queer Consent

Hosted by the UW-Superior Gender Equity Resource Center, this event will address issues faced by LGBTQ-identifying folks and will promote related services.

Throughout April

The

Spirit Room

will promote a signature SAAM cocktail. Watch Spirit Room's social media platforms for a drink-making demonstration by manager Lindsey Graskey, as well as events in April with the drink being featured.

Throughout April

CASDA's Facebook page

will highlight related information, including additional

community partnerships and promotions. 
If community members would like to direct donations to CASDA during April in recognition of Sexual Assault Awareness Month, they will be used toward:
Prevention education and community awareness events

Services such as hospital advocacy for sexual assault victims and survivors
Donations can be made HERE. Under "add special instructions to seller," donors can specify that they would like their contribution to benefit sexual assault services.