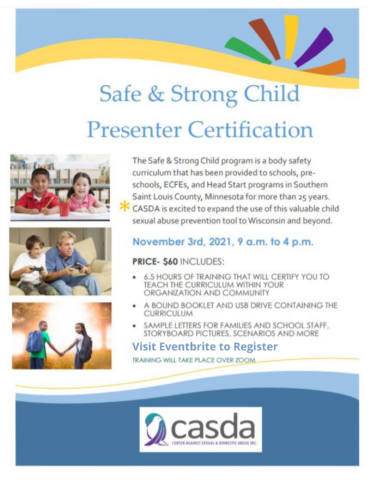 The Safe & Strong Child program is a body safety curriculum that has been provided to schools, preschools, Early Childhood Family Education classes (ECFEs) and Head Start programs in Southern Saint Louis County, Minnesota, for more than 25 years — and is now available on the Wisconsin side of the bridge!
Registration price ($60 + eventbrite fees) includes 6.5 hours of training that will certify you to teach the body safety curriculum within your organization and community, a bound booklet and USB drive containing the curriculum, sample letters to families and school staff, storyboard pictures, scenarios, and more.
Training will take place over Zoom on Wednesday, November 3rd.
Register now, as this training is limited to 30 people.
What to Expect
Upon completion of this training, you will be able to:
*explain the dynamics of child sexual abuse
*present the curriculum to individuals, families and groups of children
*know how to handle disclosures of abuse
*discuss the program with caregivers and staff
*know how to respond to potential issues or sticky situations
Is this training for you?
*school counselors
*teachers
*advocates
*faith based organizations
*preschool/daycare teachers
*parents and other caregivers
*community members